High-Pressure Valves and Systems since 1947
Your Creative Engineering Partner
For over 70 years, Hale Hamilton has partnered with customers to deliver mission-critical pressure and flow control solutions. In meeting our clients' needs, we utilize a range of pressure and flow control technologies with the scope of our supply ranging from individual valves to fully integrated fluid control systems. Our team of Engineers, Application Experts, and Project Managers have a broad range of experience in delivering cost-effective solutions with projects delivered to specification, time, and cost.
Visit our brand's website at www.halehamilton.com
Solution Development

Valve/pressure control technology-related projects delivered in partnership with our client through design & prototyping to qualification and in-field testing
System-level projects delivered as 'Turnkey', i.e. from concept to fully commissioned solution

Research and Development

Development of valve and pressure control technologies supporting our key applications related to Hydrogen, CNG/Biomethane, and Industrial Gases
Client-specific R&D activities are undertaken to meet specific project requirements

Qualification Testing

Our qualification test programs are written around specific project requirements, typical in safety & process critical situations
Mechanical shock, adiabatic shock, vibration, cycle testing, and extreme temperature tests may be undertaken during qualification testing
Collaborative Solution Development
Project Management
After Sales Support
Pressure Control
Stop Valves
Filtration
Over Pressure Protection
Direction Control Valves
Valve Manifolds
Safety Relief Valves
Check Valves
Gas Supply Panels
Industrial Gas Cylinder Filling Skid Module
Integrated Fluid Control System
Custom-Pressure Reduction Modules
Containerized Pressure Reduction Unit for Biomethane
Breathing Air Cylinder Drying/Filing Unit
Charging Units
Featured Products
Industries
Hale Hamilton's Pressure and Flow Control solutions and technologies are deployed in a wide variety of applications. Gaseous applications often involve pressure reduction from storage to the application where the accuracy of pressure and flow control is important. Hydraulic applications usually involve oil or water-based fluids at high pressure, something we have a lot of experience in.
Industrial Gas: Hale Hamilton has served the Industrial Gas Industry for over 45 years and today has a broad range of valve technologies and system solutions available to support our clients' cylinder filling systems, trailer fleets and client site gas control requirements.
Aftermarket

We provide outstanding global Aftermarket care with our regional through-life servicing. Our combined expertise, 24/7 support, and customer focus make us the right partner to build the confidence you need to prosper.
Being a solutions provider and helping our clients maintain high productivity is at the core of what we do. A critical element is the Maintenance, Repair, and Overhaul of our products. In our core industry, operational and support costs can run extremely high and budgets are always under pressure. That's why it's important to have through-life support solutions tailored to each individual system, product, and situation. Our technicians provide a bespoke service based on the individual company's or authorities' requirements from the provision of OEM spares Kits through to full on-site operational support contracts.
Aftermarket services:
Repairs: focused MRO support so products are always in 'as new' condition.
Maintenance & Service Contracts: To maintain optimum operational uptime and performance we provide a range of on-site service support contracts including Preventative maintenance inspection and service schedules plus remote performance monitoring capability on our system solutions.
Spare Parts: Our spare component parts are genuine OEM-approved products.
Field Service: We supply fully-qualified technicians in controlled environments to carry out your essential on-site repairs, maintenance and product training programs.
RESOURCES
Explore our Success Stories
News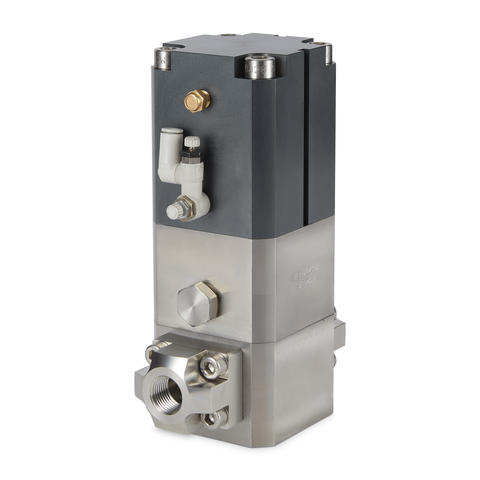 SUPPLYING HIGH-PRESSURE PRIMARY ISOLATION VALVES AND PRESSURE CONTROL TECHNOLOGIES ENABLING THE SUPPLY OF HYDROGEN TO HYDROGEN FUELING STATIONS
CHALLENGE
Our client, a supplier of Hydrogen Trailers required valves qualified in accordance with the latest European Transportable Pressure Equipment Directive, a requirement for all valves used to isolate transportable hydrogen storage modules. The valves were required to be used at pressures up to 700 bar(g), at temperatures as low as -40°C with very tight limits on leakage. Without valves qualified to this standard, the trailer could not be certified and put into operation.
SOLUTION
CIRCOR engineers work diligently to establish a valve capable of meeting these highly demanding requirements. The ASV Series Pneumatically Actuated Stop Valve Series is based on CIRCOR's highly reliable balanced valve concept but includes sealing technologies capable of performing across the range of pressures temperatures and leak rates required setting a new standard for high-pressure balanced valve design.
CIRCOR IS YOUR PARTNER
CIRCOR has a broad range of pressure and flow control components for Hydrogen Storage applications including Manual Stop Valves, Regulators, Slam Shut Valves, Residual Pressure Valves, Check Valves, and Filters, and can build complete Trailer Fill Cabinets for its clients –saving space, cost, and client engineering resources.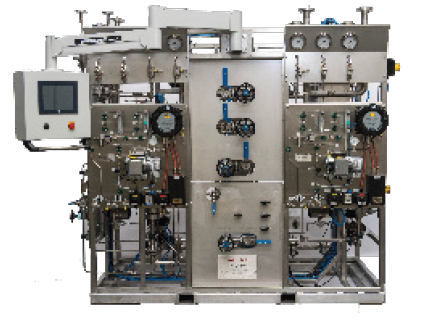 HYDROGEN, CO2 AND LP AIR SYSTEM DESIGNED FOR A COOLING APPLICATION ON ONE OF THE LONGEST POWER TRANSMISSION PROJECTS IN THE WORLD
CHALLENGE
A leading supplier of Synchronous Condensers secured a turnkey project for its Synchronous Condensers and needed hydrogen gas supply systems to charge the condensers' cooling systems. The prime safety concern for the system was ensuring it could be purged in and out of service without hydrogen mixing with air as this would create an explosive mixture. As such, CIRCOR was contracted with designing a system that could be safely charged with hydrogen, monitored during operation, then when required, could be safely purged of hydrogen bringing the condenser to a safe state where maintenance activity could be undertaken prior to re-commissioning the system back to use.
SOLUTION
CIRCOR system designers worked with the client to establish a process design that would use CO2 to purge hydrogen from the condenser and then use air to purge CO2 from the condenser making it safe to maintain. A gas delivery system was designed and built to take cylinder storage pressure down to injection pressure with an integrated heater system to ensure the gas delivery temperature was maintained at the correct level. A compressor system was utilized to supply air and a Gas Distribution panel (right) was used to charge, vent, and continuously analyze the gas. All pressure control equipment utilized CIRCOR pressure regulators, valves, filters, and pressure relief devices. The whole system underwent factory acceptance testing at our facility in Uxbridge, UK, and commissioning assistance was provided at the client site to ensure the successful functioning of the system.
 
Contact Hale Hamilton
Inquiry