Latest news
Learn how centrifugal pumps, positive displacement pumps and three-screw pumps perform in these cases.
by Adam Brookie
CIRCOR Industrial Group
Read more
– Press Releases
CIRCOR International, Inc., a leading manufacturer and marketer of differentiated technology products and sub-systems, will showcase its broad range of pumps and valves product technologies for the hydrogen economy at World Hydrogen 2022 Summit & Exhibition in Rotterdam, Netherlands, May 9-11, 2022. 
Read more
– Press Releases
CIRCOR Announces Remote Service Augmented Reality Solution
Innovative Solution Enhances Ease of Business and User Flexibility
Read more
Want to know why twin-screw pumps handle different viscosities and other liquid characteristics well? Read March's Pumps and Systems article by Axel Jäschke, Director of Advanced Technology, Industrial, and learn more about the abc's of twin-screw technology and other robust capabilities.
Read more
– Press Releases
CIRCOR Announces CIRCORSmartTM App Now Supports IMO Brand Pumps
Easy Access to Critical Data on IMO Pumps Reduces Downtime and Increases Productivity
Read more
CIRCOR Announces the Versatile CIR 3100 Control Valve Series
A Standardized, Flexible and Economical Solution for a Wide Range of General, Critical and Severe Applications
Read more
CIRCOR Announces the RTK® REact-TestOne Test Box for Easy Testing of Electric Actuators
Quickly Perform Onsite Tests to Ensure that React E Series Electric Actuators are Operating Properly
Read more
CIRCOR Receives Award from Electric Boat to Supply Block V Ball Valves to U.S. Navy
Read more
– Press Releases
Continuing to drive its strategy of increasing local product availability and support in China and the Asia-Pacific market, CIRCOR has opened for business at its expanded 6,000 sqm plant in the city of Weihai, Shandong province. 
Read more
– Allweiler in Product Releases
The next-generation AEB-DE PC pump series of four pump sizes that share one installation footprint and are capable of bi-directional flow. Combining proven features from two dosing pump ranges with newly optimized rotor and stator geometries
Read more
Allweiler, a business unit of CIRCOR, will exhibit at the Pumps & Valves trade fair in Dortmund, Germany February 12th and 13th 2020 (Hall 6, Booth R19-6). 
Read more
Valve World Americas had the opportunity to speak to CIRCOR's cryogenic, power and process, and aftermarket divisions to discuss new product advances and their global reach.
Read more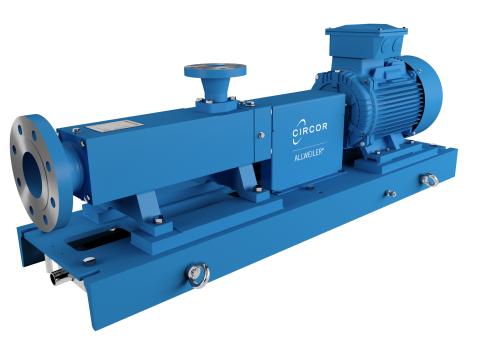 CIRCOR has launched the Allweiler SNA™ series of customizable three-screw lube oil pumps for diverse API 676/682 applications. The Allweiler SNA series allows for customized setups in any of 12 ways, a choice of foot or flange mounting schemes, and the ability to adjust inlet and outlet positions at a moment's notice.
Read more
CIRCOR has signed an investment agreement to build a new facility in the Weihai Economic & Technological Development Zone (ETDZ). This commitment is a significant step forward in CIRCOR's strategy to support the company's customers in China and Asia Pacific.
Read more
Monroe, NC, USA – CIRCOR's expanding relationship with Asia-Pacific customers kicks off next week in Shanghai at AchemAsia, May 21-23. The company will display a range of highly engineered valve, pump and system solutions to meet customers' dynamic needs for flow control in industrial applications.
Read more
CIRCOR Aerospace, Inc., a CIRCOR International company (NYSE: CIR), today announced the award of a U.S. patent to one of its engineers, Brent Salamone, for Miniature Surface Mount Housings for electronics packages.
Read more
CIRCOR Aerospace & Defense, a CIRCOR International Inc. company (NYSE:CIR) has introduced TruLaunch, a lightweight, high-pressure pneumatic rail launcher for commercial Unmanned Aircraft Vehicles and Systems. A revolutionary pneumatic launcher, TruLaunch is designed for optimal flexibility, portability and durability in the field.
Read more