A legacy of energy-efficient performance lives on.
At Houttuin, our original innovation was a pump that could handle large quantities of viscous liquids while minimizing energy loss. Efficiency caught on.
Houttuin' a CIRCOR brand' developed the original pump design that became the blueprint for today's low-pressure' twin-screw positive displacement rotary pumps. These pumps, initially built in 1929 for the Dutch coal industry, solidified our reputation for manufacturing high-quality, energy-efficient and cost-effective industrial pumps.
Houttuin Pumps are used worldwide in a variety of industries, including chemical and petrochemical' tank farms' power plants' offshore' refining' shipbuilding and marine' soap' food' beverage' plastics and sugar.
To manufacture its complex screw shafts to the extremely high tolerances necessary for its pumps, Houttuin employs specially designed and built CNC machines. Equally important, every pump undergoes both a hydrostatic test and running test at our testing facility to approximate—as nearly as possible—actual duty conditions.
Houttuin is ISO 9001-certified and has manufacturing operations in Monroe, North Carolina and Allweiler India, Daman.

Featured Content
The Houttuin TT two-screw pump series delivers improved flow in a much more streamlined package

ENGINEERED TO MEET DEMANDS AND EXCEED EXPECTATIONS
When creating the Houttuin TT series, we kept our end users top-of-mind and created a better performing, smaller sized two-screw pump to meet their needs. In addition to an incredible flow rate, the Houttuin TT series has fewer parts, is lighter in weight and offers a lower net positive suction head (NPSH) than similar sized pumps.

THE NEED FOR SPEED
In transfer and unloading applications, the longer the process takes, the more it costs. With the Houttuin TT series, you'll be able to unload fluids faster than ever. And your performance won't vary even if storage fluid levels or inlet pressures do.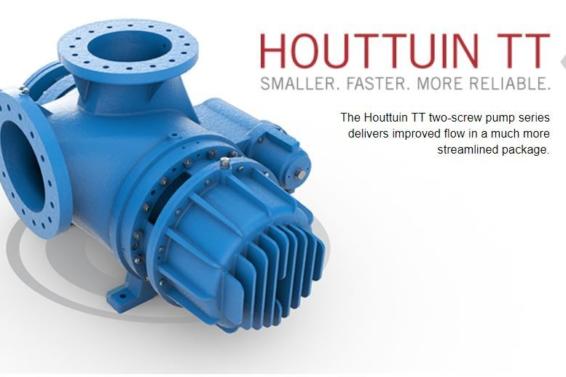 SIMPLY INSTALL IT, SET IT AND FORGET IT.

CIRCOR's Twin-Screw Smart Technology Package automatically adjusts flow in real time to operating conditions protecting the pump from cavitating, while maintaining the highest capacity possible. Our patented algorithm, designed to detect cavitation, makes it possible to preserve required flow in normal operation without oversizing the pump for worst-case scenarios that may occur when stripping a tank or pipeline.