CIRCOR to Showcase Compact Marine Centrifugal Pumps at SMM 2022
Visit Stand 237 in Hall A2 to learn about CIRCOR's pumps for marine applications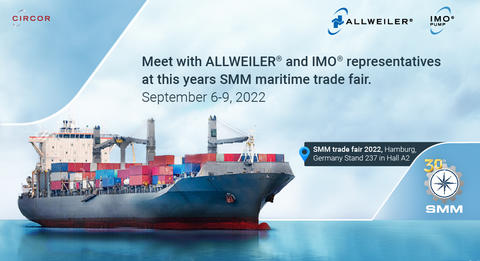 CIRCOR International, Inc., a leading manufacturer and marketer of differentiated technology products and sub-systems, will showcase the ALLWEILER® ALLMARINE® MA-S and MA-C pumps and the ALLMARINE MI-S and MI-C pumps at the SMM trade fair in Hamburg, Germany, September 6-9, 2022. Stop by Stand 237 in Hall A2 to learn more about how CIRCOR's lightweight pumps with heavyweight performance deliver in commercial marine applications.
The compact MA-S and MA-C series from Allweiler Allmarine are vertically installed centrifugal pumps with axial inlets and radial outlets. The S version was designed for simple and rapid assembly and disassembly of the insert unit with an impeller. "For our customers with severe space restrictions, the C version offers the same reliability with a significantly shorter installation height and weight", says Michael Gaiser, Sr. Director Global Sales Commercial Marine.
Both the MA-S and MA-C use a new and patented foot design. This extends the pump's service life, reduces wear and also helps avoid damages at the impeller and casing making them stable and reliable while still being lightweight. Allmarine's MI-C and MI-S series pumps are also available as an inline volute casing design and feature "go anywhere" adaptability.
Also at the show will be the IMO AB three-screw pump technology solutions for engine room packages. These solutions also address the growing demand for Low-Sulfur pumping applications.
Both product lines are available not only from Radolfzell (Germany), but also from Weihai (China). "The ability to serve our customers in Asia from our local factory supports our ambitions to be accessible to our customers" says Michael Gaiser.
###
About CIRCOR International, Inc.
 
CIRCOR International, Inc. (NYSE: CIR) designs, manufactures and markets differentiated flow control products and sub-systems for Aerospace & Defense and Industrial customers. The Company has a diversified product portfolio of recognized, market-leading brands (Allweiler®, Houttuin™, Imo®, Hale Hamilton, Aerodyne Controls, RTK®, Schroedahl®, Tushaco®, Warren® and Zenith®) that fulfill its customers' mission critical needs. For more information, visit the company's website at www.circor.com.