Allweiler SNA™ Plug-and-Play Pumps Set New Standard for API 676/682 Lube Oil Applications
RADOLFZELL, Germany (July 3, 2019) – CIRCOR has launched the Allweiler SNA™ series of customizable three-screw lube oil pumps for diverse API 676/682 applications. The Allweiler SNA series allows for customized setups in any of 12 ways, a choice of foot or flange mounting schemes, and the ability to adjust inlet and outlet positions at a moment's notice.
"Allweiler SNA is a pump solution that adapts to your design, rather than making your design adapt to it, setting a new standard for API 676/682 applications," said Daniel Stirpe, Vice President CIRCOR Industrial Pumps EMEA & APAC. "Using screw connections with two different flanges for the inlet and one for the outlet instead of welded connections, and intuitive pump feet, the German-built Allweiler SNA becomes a plug-and-play solution for connecting to lube oil applications with unprecedented ease."
The most common applications for Allweiler SNA series include:
Compressors, turbines and large scale pumps
Refineries (gas compressors, gear boxes)
Power plants (oil cooling, emergency and bearing pumps)
The Allweiler SNA pump is available in a bare shaft version but also as an aggregate solution complete with baseplate, coupling, lantern and motor. Built to API 676 guidance, the self-priming pump features 100 percent steel spindles and housings to safeguard performance even under extreme operating conditions.
Sealing variants include a high-quality mechanical seal in standard version. When more demanding applications call for the seal to have functions such as connecting additional sealing systems, leakage draining, easy maintenance and flagship reliability, Allweiler offers two compact cartridge seals corresponding to API 682.

Learn more: https://www.circorpt.com/sna?ref=Three-Screw+Pumps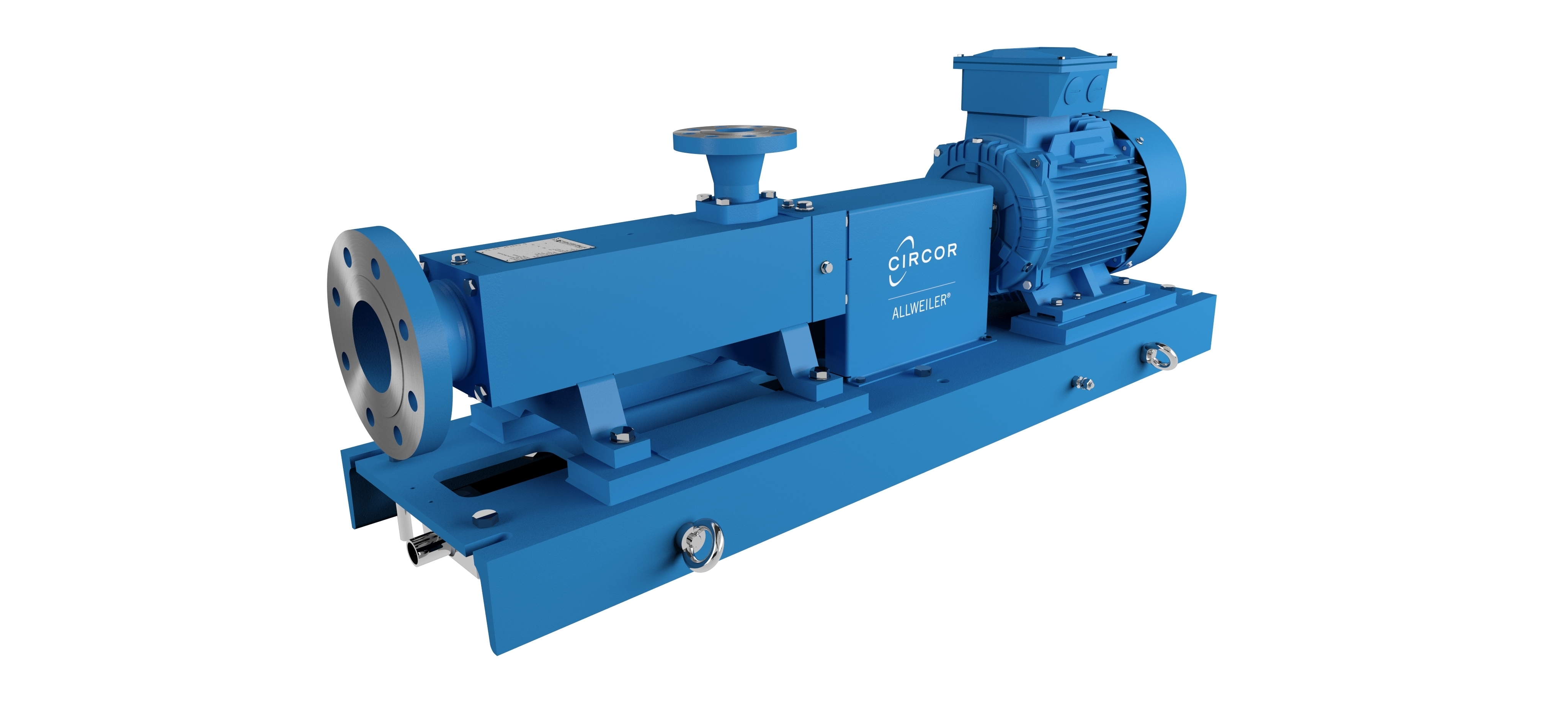 ALLWEILER SNA™ PLUG-AND-PLAY-PUMPEN SETZEN NEUEN STANDARD FÜR API 676/682-SCHMIERÖLANWENDUNGEN
RADOLFZELL, Deutschland (3. Juli 2019) - CIRCOR hat mit der Serie Allweiler SNA™ eine anpassbare Schraubenspindelpumpe für verschiedene API 676/682-Schmierölanwendungen eingeführt. Die Allweiler SNA-Serie ermöglicht kundenspezifische Konfigurationen auf 12 verschiedene Arten, verfügt über eine Auswahl an Fuß- oder Flanschbefestigungen und bietet die Möglichkeit, Saug- und Druckstutzen jederzeit anzupassen.

"Die Allweiler SNA ist eine Pumpenlösung, die sich an Ihre Konstruktion anpasst, anstatt dass der Anlagenbauer seine Konstruktion an die Pumpe anpassen muss. Sie setzt einen neuen Standard für API 676/682-Anwendungen", so Daniel Stirpe, Vice President von CIRCOR Industrial Pumps EMEA & APAC. "Durch die Verwendung von Schraubverbindungen mit zwei verschiedenen Varianten für den Saugflansch und einer für den Druckflansch anstelle von Schweißverbindungen und intuitiven Pumpenfüßen wird die in Deutschland hergestellte Allweiler SNA zu einer beispiellos einfach handzuhabenden Plug-and-Play-Lösung für Schmierölanwendungen."
Die häufigsten Anwendungen für die Allweiler SNA-Serie sind die Schmierung von:
Kompressoren, Turbinen und Großpumpen
Raffinerien (Getriebe und Kompressoren)
Kraftwerke (Haupt-, Hilfs- und Notölpumpen, Sperröl, Dichtöl)
Die Allweiler SNA-Pumpe ist als Flanschpumpe, aber auch als Fußpumpe mit Grundplatte, Kupplung, Laterne und Motor erhältlich. Die selbstansaugende Pumpe erfüllt die Richtlinie API 676 und verfügt über Stahlspindeln und -gehäuse.
Zu den Dichtungsvarianten gehört eine hochwertige Gleitringdichtung in Standardausführung. Wenn Dichtungen nach API 682 gefordert sind, bietet Allweiler mit zwei optionalen Patronendichtungsvarianten bis 100% API 682 Konformität.

Mehr erfahren: https://www.circorpt.com/sna-de?ref=Three-Screw+Pumps
ALLWEILER SNA™即插即用型泵为API 676/682润滑油应用设立了新标准
德国拉多尔采夫市,2019年7月3日 - CIRCOR正式推出Allweiler SNA™系列可定制三螺杆润滑油泵,适用于各种API 676/682应用。 Allweiler SNA泵系列允许以12种安装方式的任意一种进行定制设置,可以选择底脚或法兰安装,有能力随时调整进出口位置。
"Allweiler SNA是一种适应您设计的泵解决方案,而不需要让您的设计适应它,为API 676/682应用设立了新标准,"CIRCOR中国和工业亚太区副总裁Ashish Dutta表示, "SNA泵采用螺栓连接方式,而不是焊接连接,两个不同的法兰一个用于入口,另一个用于出口,以及直观的泵脚,使得德国制造的Allweiler SNA提供了即插即用的解决方案,以前所未有的简单方式连接到润滑油应用。 "


Allweiler SNA系列最常见的应用包括:
压缩机,涡轮机和大型泵
炼油厂(气体压缩机,齿轮箱)
发电厂(油冷,应急和轴承泵)
Allweiler SNA泵可提供泵头,也可提供配有底座,联轴器,电机架和电机的集成解决方案。该自吸泵采用API 676标准,主轴和外壳完全由钢制成,即使在在严苛工况下能够提供最佳工作性能。

密封型号包括标准版本的高品质机械密封。如果更苛刻的应用要求密封件具有更多功能,例如连接另外的密封系统,泄漏排放,更容易维护和卓越的可靠性,则Allweiler提供两个满足API 682标准的紧凑的集装式密封。