Setting Standards, Surpassing Expectations
Smooth, silent performance
With millions of pumps currently in service around the world, Imo's reputation for quiet, continuous reliability has a lot of momentum behind it.
In 1931, Carl Montelius joined financier Bengt Ingeström to form IMO, a name formed from their combined initials. Today, the brand continues in the tradition of these two prominent men, representing the highest quality, reliability and service levels in the pump industry.
CIRCOR Pumps North America LLC is a leading marketer and world-class manufacturer of Imo Pump products with competitive advantages. By developing supplier' distributor and customer networks for various industries and market segments' we achieve global reach.
Manufacturing rotary positive-displacement three-screw and gear pumps, the Imo Pump brand meets the strict requirements of our customers' applications and can offer precise' and reliable performance. Our experienced engineering staff can help you solve any design' engineering or process issue.
Industries served include hydrocarbon and chemical processing' crude oil transport' Navy and commercial marine' power generation' pulp and paper' hydraulic elevator and general machinery.
Manufacturing is accomplished under ISO 9001 Management Systems. We have also received TS 16946 certification' the highest automotive quality standard issued.
Certifications
Featured Products
DESIGNED TO PERFORM
Proven design for precision, long life and maximum energy efficiency
THREE-SCREW ROTARY PUMPS
CIRCOR three screw pumps from IMO incorporate a positive displacement rotary design consisting of a housing, which envelops the drive screw (power rotor) and the sealing screws (idler rotors).
The intermeshing of the threads of these rotors, along with the close fit of the surrounding housing, creates a moving labyrinth seal, which captures the valuable fluid and transports it axially. The enclosed area containing the fluid is referred to as a fluid closure. The pumping element does not pre-compress the fluid, but rather transports it from the suction side of the pump to the discharge port in a smooth, continuous manner. It is the fluid closure concept that provides the three-screw pump with its positive displacement capability.
Symmetrical pressure loading on the power rotor eliminates the need for bearings to absorb radial forces. The idler rotors generate a hydrodynamic film, which provides radial support similar to journal bearings. Axial loads on the power rotor and idler rotors, created by differential pressure, are hydrostatically balanced. This dramatically increases the life of the pump.
Strengths of the three-screw pump technology:
High pressure boost capabilities, even when handling low viscosity fluids
One of the highest overall efficiencies when handling heavy crude 3
Simple pump design with only three rotating parts and one shaft seal
Designs available to the latest edition of API 676
IMO Series 6D Pump
Infographic
Industries Served
CIRCOR delivers customer-focused solutions in strategic global markets' where tough challenges' harsh environments and high-stakes situations demand precision performance and reliability. To deliver where failure is not an option' CIRCOR | IMO brings customers a portfolio of pumping products and systems and deep experience and expertise in critical applications.
The proven IMO three-screw pump technology delivers literally millions of gallons of fluid per day all over the world in a wide variety of demanding applications:
Crude oil transport
Power generation
Hydraulic elevator
Fuel oil transport and burner service
Machinery lubrication
Refinery processes
Chemical processing

AFTERMARKET
Your best resource for service, maintenance and quality parts.
No one knows your valves, pumps and systems like the experts at CIRCOR. Our certified OEM parts are engineered to meet or exceed original equipment standards and our service and support teams are equipped with some of the best knowledge in the industry. We have the resources to troubleshoot, analyze and solve even your most complex issues in ways other service options are unable to.
Explore Our Success Stories
News
CIRCORSMART™
The app designed to make your life easier.
CIRCORSmart is an invaluable tool for keeping track of CIRCOR | IMO products and their maintenance requirements. CIRCORSmart allows operators and maintenance technicians to track maintenance on each product, take detailed notes and store them, and attach photos and important files for future use. The ability to keep track of product maintenance information at all times contributes to reduced downtime. With CIRCORSmart, accessing the info you need has never been easier. If your manufacturing operations use IMO product Series 3E, 3G, 3D, 6D or 12D pumps. This app is a must have for maintaining the health of your critical pump equipment.
BROCHURE
The vast majority of today's elevators are one of two basic designs, traction or hydraulic. Hydraulic types of systems are typically less expensive and are found in buildings with a maximum of six or seven floors. These systems typically feature a rotary three-screw pump because of the pump's quiet, smooth and reliable operation.
PROVEN PUMPS. ENGINEERED TO LAST.
With pumps like the cast iron 3D Series from IMO or the sturdy construction of the 4PIC and ALLift® Pump Series from Allweiler, CIRCOR offers a variety of options that will deliver decade upon decade of flawless performance.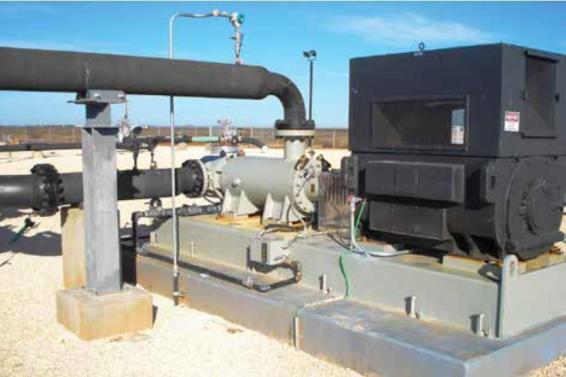 BACK TO BASICS
Follow these tips to help keep gremlins away from your system.
Many pump startups are the culmination of months, if not years, of work to design the process, machine or system; specify components, instrumentation and protective devices; and review and qualify suppliers. It is also the most vulnerable time for any pump. Part I of this article describes cautions, reviews and inspections for three main components that should be conducted before startup to help ensure that gremlins of pumping systems are identified and eliminated. In a future issue, Part II will give additional tips on how to prevent delays and other, last-minute pointers to ensure successful startup of rotary pumps.
BACK TO BASICS
Follow these tips to help keep gremlins away from your system.
Part I of this article, as seen above, described cautions, reviews and inspections for three main components (piping and valves; foundation, alignment and rotation; and lubrication) that should be conducted before startup to ensure the issues that can arise with pumping systems are identified and eliminated. This article, Part II, reviews additional information on how to prevent delays and ensure the successful startup of rotary pumps.
Technical Documents
Self-Serve
IMO SERVICE PORTAL
For our registered customers and partners we provide important technical information, documents and services in our IMO Service Portal around the clock.
Contact IMO
CIRCOR Pumps North America, LLC
1710 Airport Rd.
Monroe, NC 28110
1 (704) 289-6511 (International)
1 (877) 853-7867 (USA and Canada)
Inquiry